Karma Genetics | Chem Tini | Regular Seeds
80,00€
| | |
| --- | --- |
| Brand | Karma Genetics |
| Pack Size | 12 Seeds Per Pack |
| Indoor / Outdoor | Indoor / Outdoor |
| Flowering Time | 9-10 Weeks |
| Genetics | Hybrid |
| Lineage | Stardawg KG cut x LemonTini |
| Yield | Medium to High |
| Seed Type | Regular |
2 in stock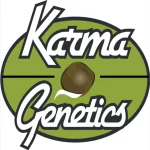 Description
ChemTini cannabis seeds from Karma Genetics is a new hybrid cannabis strain from Karma that forms part of their new LemonTini collection.
Karma's LemonTini was released earlier this year and was the clear winner of the batch of strains it was launched with. Strong lemon flavours are always popular and LemonTini positively fizzes with sharp, citrus terpenes and delicious gassy goodness.
It hasn't taken Karma Genetics long to realise the potential of their new star strain, and there is now an entire collection of hybrid cannabis strains based around the genetics of LemonTini (Lemon Tree x Karma Sour D BX).
ChemTini is derived from a cross of Stardawg (KG Cut) x LemonTini and produces a funky, gassy hybrid with some very interesting phenotypes.
Legally-operating growers will see vigorous plants with modest vertical growth. Chem-dominant phenos tend to stretch a little more, but go on to reward you with a latex, tennis ball terpene profile that is a true winner.
Lemon-dominant phenos have a sharp, lemon candy flavours and all variants have great structure and tight bud formations.
Extraction artists looking for lemon terps and high resin production will not be disappointed. This is a frosty lady with great flavours.
Both Stardawg and LemonTini are very potent strains in their own right. ChemTini is potent yet retains relaxing body effects that are not overpowering. Simply exquisite.