Karma Genetics | OG Tini | Regular Seeds
80,00€
| | |
| --- | --- |
| Brand | Karma Genetics |
| Pack Size | 12 Seeds Per Pack |
| Indoor / Outdoor | Indoor / Outdoor |
| Flowering Time | 9-10 Weeks |
| Genetics | Hybrid |
| Lineage | JD#1 OG x LemonTini |
| Yield | Medium to High |
| Seed Type | Regular |
14 in stock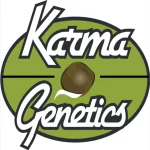 Description
OG Tini cannabis seeds from Karma Genetics is a new hybrid cannabis strain from Karma that forms part of their new LemonTini collection.
Karma's LemonTini was released earlier this year and was the clear winner of the batch of strains it was launched with. Strong lemon flavours are always popular and LemonTini positively fizzes with sharp, citrus terpenes and delicious gassy goodness.
It hasn't taken Karma Genetics long to realise the potential of their new star strain, and there is now an entire collection of hybrid cannabis strains based around the genetics of LemonTini (Lemon Tree x Karma Sour D BX).
OG Tini is derived from a cross of JD #1 OG x LemonTini and produces an OG Kush-dominant hybrid with a breeding pedigree to rival anything.
Legally-operating growers will see typical OG Kush type plants with average stretch and structure.
Go easy on the water late in bloom for best results – and what results they are! Tight, dense buds with that classic OG flavour and a blast of lemon gassiness from the LemonTini. Simply amazing.
LemonTini is, of course, a very potent strain in its own right. OG Tini is also very, very potent indeed and has a heavy body effect.
OG Tini is available now in packs of 12 regular seeds.
Strain Name: OG Tini
Genetics: JD#1 OG x LemonTini
FlowerTime: 9 to 11 weeks
Hybrid
Yield: Medium to High
Sexs: Regular
12 seeds